Attendee Testimonials & Feedback
96.7% of attendees that completed the survey rated the conference EXCELLENT.
(SurveyMonkey results – Spring 2019)
98.9% of attendees that completed the survey rated the conference EXCELLENT.
(SurveyMonkey results- Spring 2018)
100% of attendees that completed the survey would recommend the conference to others!
(SurveyMonkey results- Fall 2017)
100% of attendees that completed the survey would recommend the conference to others!
(SurveyMonkey results- Spring 2016)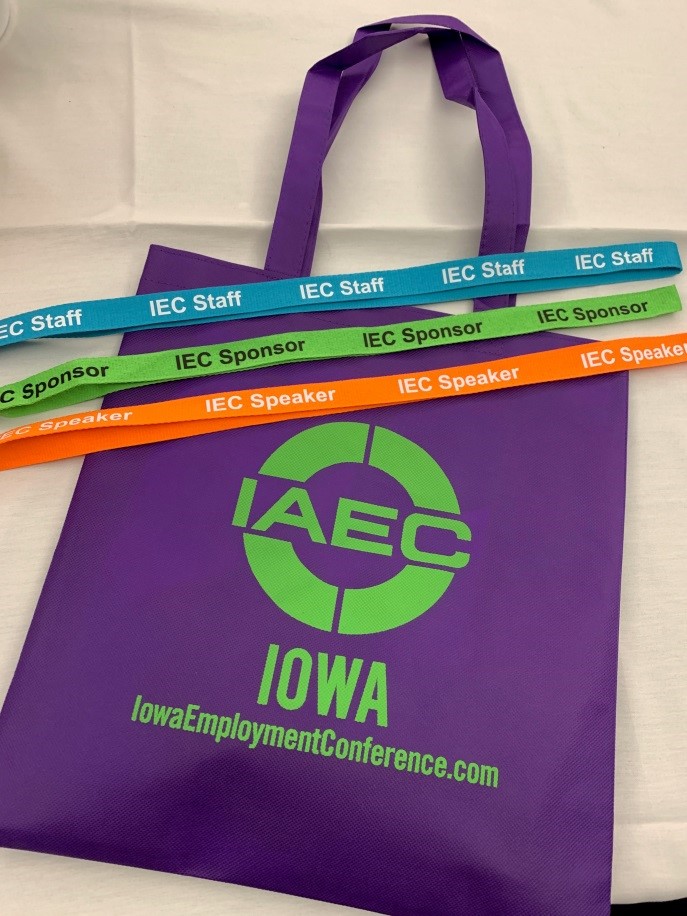 I didn't know what to expect because it was my first time attending. I really enjoyed the session on unconscious bias.  Its uncomfortable calling out yourself and discovering the unconscious biases that I have but learning about it and growing from it is very valuable to me and my organization.
I was very impressed with how well the conference was organized and the qualifications of the speakers.  While I do many presentations throughout the year, I really felt like I was not in the "same league" as all of your other speakers, when it comes to personnel and human resources issues and topics. You certainly had an impressive list of speakers at this conference.
Since I used to help organize the annual IMMI conference, I know what it takes to prepare for such an event.  You certainly have it down to perfection.  You make it a very enjoyable experience for the attendees and the speakers.
I have attended both the Spring and Fall sessions of the Iowa Employment Conference for the past four years and look forward to both every year! The topics are relevant and the presenters are always dynamic and knowledgeable. Plus, it's a great way to meet my peers and learn from (and laugh with) them as well! If you've not been able to convince your boss the business won't fall apart if you're gone two days in the spring and one day in the fall, assure them the reviews are in that you'll be a better person and a better employee for it!
Thanks again for a fabulous fall conference! I'm stoked for April!!
I just wanted to say thank you to you and all the other staff members who put together another excellent two days of training for us. Hope to see you again this fall.
There's always something that you pick up on as the laws are ever changing or maybe you didn't pay attention quite as well as last time as there is always something you can take away with you to your teams and improve your company.
When I'm sitting at my desk trying to figure out how I'm going to do this, there's that reminder that there is a very large room full of people that have to deal with that exact same thing so I'm a phone call or an email away from saying, hey guys, how did you do this because I'm trying to navigate this too right now.
I've come to the spring and fall conference for years! The sessions are invaluable. I NEVER miss it!
Another wildly successful sharing time! No surprise here! Congrats! Way to Go!
David Woods Bartley – Your key note & breakout sessions were amazing. Not very often can I sit through a speaker/lecture/presentation and not wander off in thought from loss of interest.  However, your presentations were different.  I was engaged the entire time. My head was spinning with "Ah-ha" moments like crazy.  Your story touched me and opened my mind & eyes to what people with mental struggles are really feeling & how I can change my approach to be more aware / understanding. God Bless you for pulling through your life's daily struggles to share your story! You are will never know how many lives YOU shave by sharing your story like you do. Please don't ever stop. You single handedly are changing & saving lives. God Bless & I hope to cross paths again. 
Great conference! Thank you for all the hard work you put into it. You managed to work in so many options and maximize the time. I don't know how you did it.
I'm part of Central Iowa SHRM and it's really nice to see a lot of my comrades that are in that community that come. The team building and just seeing the people knowing we are all doing our best to be best for our employer.
Just following some of the information received, if you just pick up one thing from the conference you could save your employer 10, 20, $100k lawsuit.
The conference always provides which sessions they are going to offer in advance so it's really helpful to see what's most applicable to and your job. The reason I come back year after year is the content and knowing I'm going to learn something each year. 
A big take away was really developing the employees we have for strategic planning and for succession planning. I really believe I will take these tools back and implement in our workplace.
I don't know what I like until I get in there and I hear it. I like getting in on a good conversation and being engaged. Leaving the conference with that a-ha moment.
How well organized it was from a vendor point of view. The traffic was great! People were very friendly and helpful! Thank you!
Such a great conference, always organized and pertinent information for today's workplace.